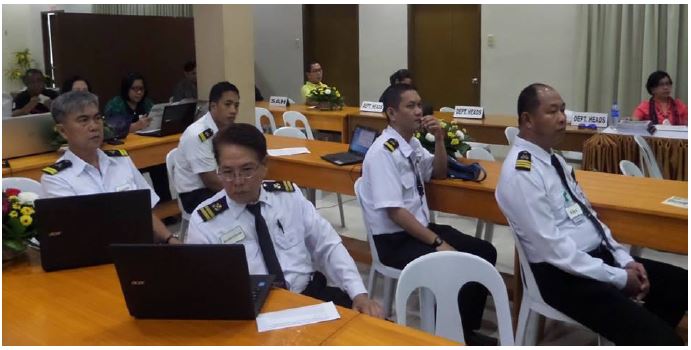 Various papers were presented by 11 faculty and staff researchers during the 2016 Unit Research Colloquium on September 15-16, 2016, Audio-Visual Room of the Jo Tankers Building. C/M Alex D. Tan, Subject Area Head for BSMT presented the paper entitled "Teaching Performance of Marine Deck Instructors: Exploring Opportunities for Improvement on Pedagogy" which she co-authored with Mrs. Joanna S. Gudio, Subject Area Head for Filipino, Social Sciences and Humanities. Another paper entitled "Simulation Skills of BSMT 3 Students on Shiphandling and Maneuvering" was presented by 2/M Hendrickson E. Dioko, a paper he authored with Capt. Cesar Jolito and C/M Nestor B. Sapar. All three of them are deck instructors of the College of Maritime Education.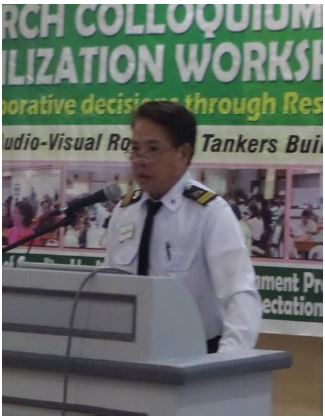 The rest of the papers presented included "Usage of Internet and Computer among the Faculty Members as Basis for the Enhancement of Instructional Services," presented by Mrs. Ma. Aida H. Beceos on behalf of Mrs. Elisa V. Garcia, Chief Librarian; "Working Styles of JBLCF-Bacolod Employees" by Mrs. May M. Baylon; "Household Disaster Preparedness & Practices at John B. Lacson Colleges Foundation-Bacolod's Adopted Communities" by Dr. Violeta A. Neri; "Evaluation of Lighting Illumination in Different Work Areas of JBLCF-Bacolod" by Engr. Ruby S. Oro and Engr. Ritchie J. Navarro; "Level of Academic Performance in Nat. Sci. 2 (Applied Physics) of BSMT 1-Polaris A Students Using the Collaborative Inquiry Approach (CIA)" by Mr. Brando P.  Montero; "Performance of the Supreme Student Government as Perceived by the Internal Stakeholders of JBLCF-Bacolod" by Mrs. Jarebeth M. Bangoy; "A Tracer Study on the BSCA Graduates of John B. Lacson Colleges Foundation-Bacolod" by Ms. Ruth B. Balajadia; and "Tracer Study on Bachelor of Science in Hotel and Restaurant Management (BSHRM)" by Mrs. Darlene D. Sabandal.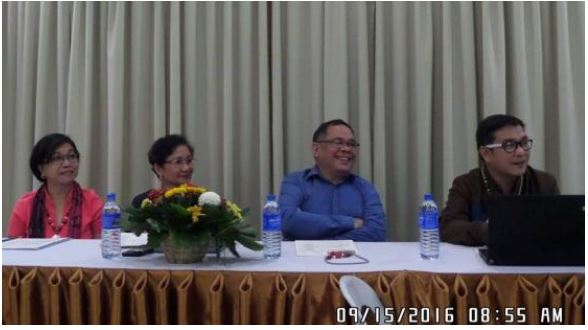 To meet the quality standards fit for presentation and publication, external experts were invited to review and critique the papers that were presented. These experts were Dr. Annabelle A. Chavez of the University of St. La Salle and Dr. Carmen C. Menes of La Consolacion College-Bacolod. Dr. Melchor M. Magramo, Research Director for Research and Extension of JBLFMU also graced the event.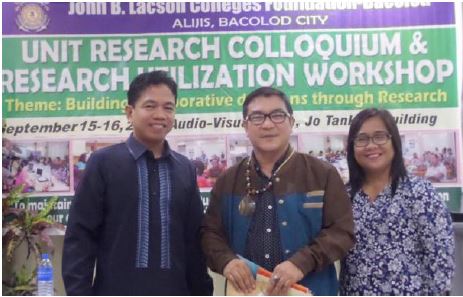 Mr. Efren S. Sucaldito, Education Supervisor II, CHED-NIR delivered the keynote speech which gave emphasis on the importance of institutional research in facilitating quality education in the academe. Mr. Robert O. Parcia, the OIC Administrator of JBLCF-Bacolod, provided a touch of inspiration by cordially welcoming and encouraging everyone to strengthen the research culture of the campus.