The College of Business Education of JBLCF-Bacolod held its 4th Student Research Colloquium last March 22, 2018 at the Function Hall of the HMA Business Building with the theme "Advancing Competencies for Global Competitiveness." The event started with a Poster Design Contest in the morning showcasing various applied research outputs of the BSHRM and BSCA Third Year Students enrolled in Research during the second semester of School Year 2017-2018 and were at the same time the participants of the event.
There were ten participating entries that competed for the Poster Design Contest and the rest of the outputs were displayed as exhibits. The poster entries included the following papers: Prototype of a Royal Loft Cabin, Prototype of a Deluxe Hotel Room, Guyabano Bread, Jackfruit Cake, Dried Shrimp Powder in Vegetable Chips, Menu Development for the JBLCF Canteen, Pinakabet in Three Basic Mother Sauces, Prototype of a Port, Prototype of an Economy Room, and Prototype of a Hotel Suite Room.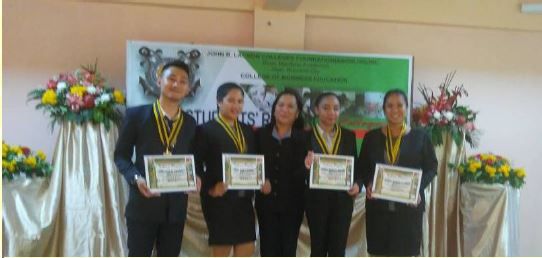 The entire afternoon was set for the paper presentations which featured the following research outputs: Batuan Paste by Joseph P. Loloy (BSHRM 3-Charlie), Mock Bar Laboratory by Diana Marie Odio (BSHRM 3-Alpha), Industry Immersion of the BSCA Student-Trainees by Patricia Danielle Montoya (BSCA 3), and Salted Eggs in Charcoal Substrates by Nikka Jean Hernal (BSHRM 3-Bravo).
Dr. Marissa Quezon, Dean of the College of Business and Accountancy of Carlos Hilado Montelibano Memorial State College, Fortune Town was the Keynote Speaker who conveyed a message of inspiration on the significance of character and competencies in the achievement of one's employment goals. She also formed part of the panel of reactors in students' paper presentations together with Dr. Cyche Hisona-researcher and professor from the University of St. La Salle-Bacolod. The commendations and helpful comments, reactions and suggestions they expressed have truly inspired the student-researchers to improve their outputs.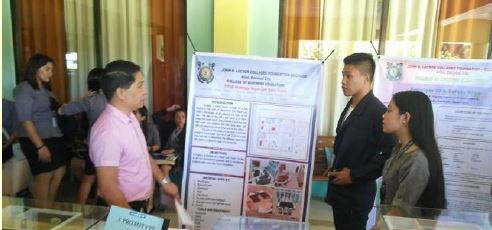 The activity which was overall chaired by Mrs. Darlene D. Sabandal, Research instructor and Research Representative for CBE. The event was also graced and supported by the Administrator, Mr. Robert O. Parcia, and the department heads namely, Dean Ana Juline C. Dangallo, Dr. Araceli Doromal-Unit Academic Coordinator who conveyed the message of Dr. Melchor E. Magramo, Director of Research and Extension of JBLFMU, and Dr. Emeliza T. Estimo, the Unit Research Coordinator of JBLCF-Bacolod.