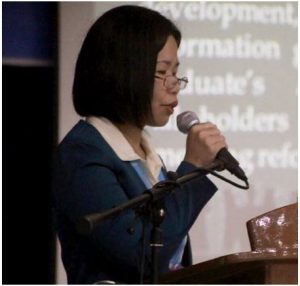 Iloilo City—The 2017 System Research Colloquium and Sharing of Best Practices were held at the JBL Hall of JBLFMU-Arevalo on January 27, 2017. The event was graced by Capt. Luis G. Evidente and the three able Administrators of the academic units: Mr. Robert O. Parcia of JBLCF-Bacolod, Engr. Roberto Neal S. Sobrejuanite of JBLFMU-Arevalo and Dr. Capt. Alfred G. Espinosa of JBLFMU-Molo. Also present were Dr. Lourdes C. Arañador, System Academic Director, together with the Academic Coordinators of all units composed of Dr. Araceli C. Doromal, Dr. Geneva Eler, and Dr. Lily Sumbi. Leading the Research Team was Dr. Melchor M. Magramo, System Research Director, with the Research Coordinators of all units, Dr. Emeliza T. Estimo, Dr. Brian Gil Sarinas, and Dr. Rolando Alimen. Various faculty and staff from the different units also participated in the event
The event started with the Research Colloquium where three papers were presented and critiqued. The presenters were composed of Ms. Ruth Balajadia, Program Head for BSCA in the College of Business Education of JBLCF-Bacolod who presented her paper entitled "A Tracer Study of the BSCA Graduates of John B. Lacson Colleges Foundation," 3/E Silvestre C. Saldavia with his presentation of "Safety at the Maritime University Campus: Response to International Standard," and Mrs. Conny A. Abangan for her paper "Level of Competencies on the Use of Simulator Operations Among Selected BSMT Students." The critics that were invited to react on the papers were composed of Dr. Cecilia D. Alimen (University of San Agustin), Dr. Roel A. Alli (West Visayas State University), Dr. Reynaldo N. Dusaran (Central Philippine University).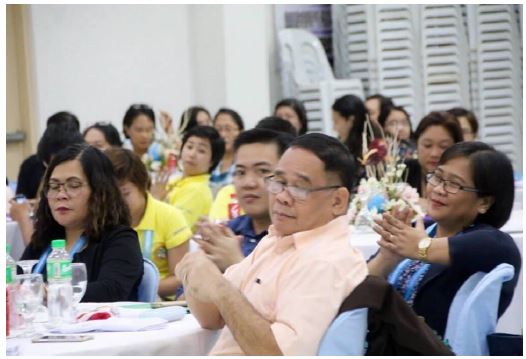 For the Sharing of Best Practices, everyone was enlightened by three more presentations. Mr. Paul S. Magbanua, Faculty of the JBLCF-Bacolod High School Department, shared one of the best practices of his unit entitled "Student Study Journal: Bridging the Gap Between Parents and the School." Ms. Florence Taburda, Faculty of the College of Business of JBLFMU-Molo, shared her best in the "Electronic Appointment System for Academic Counseling," while Mrs. Mary Mae Jun Palma-Esmaya of JBLFMU-Arevalo shared on "e-Portfolio: An OBE Tool for Technical Writing." It was another day of intellectual sharing for everyone who came to join the event.