The halls of HMA Function Hall, JBLCF-Bacolod, buzzed with intellectual enthusiasm on May 17, 2023, as the institution hosted a remarkable event – the Unit Research Colloquium & Sharing of Best Innovative Practices. Faculty, staff, and students converged to present their thought-provoking studies and revolutionary practices, highlighting the institution's unwavering commitment to academic excellence and innovation.
The event featured an impressive lineup of studies, each exploring diverse facets of knowledge. Faculty and staff presented the following studies that underscored their dedication to enhancing education and pushing boundaries in their respective fields:
Core Values Internalization among the Employees of JBLCF-Bacolod for the School Year 2021-2022 by Michelle Jean C. Villanueva, Dr. Emeliza T. Estimo
Assessment of Students' Internalization of the Institution's Core Values by Mr. Rexenel S. Ibardolaza, Ms. Geneveve M. Aguilar
Effectiveness of Online Learning on Students' Actual Shipboard Training by Joanna S. Gudio, C/M Alex D. Tan (Awarded as Best Paper Presentation)
Mathematics Literacy of Students: Basis for Maritime Program Module Enhancement by Erick June M. Arintoc
Effect of Computer-Based Training and Engine Room Simulation on Students' Familiarization with Marine Diesel Engines by 3/E Paul T. Olimpos (Awarded as Best Paper Presentation)
Pre-Board Examination of BSMT Graduating Students on All Competencies Under Function 1 (Navigation at the Operational Level) by 2/M Rodney D. Fruto, 2/M Antonius B. Romo
Assessing Maritime Students' Knowledge of Basic Concepts in Seamanship and Navigation by 2/M Ranilo D. Young, 2/M Joseph Daiz
Students also made their mark with studies that explored pertinent topics and showcased their academic prowess:
Lo-Fi, Study Concentration and Academic Performance of Second Year Bachelor of Science in Marine Transportation Students by Gran Henrik D. Ibardolaza
Technology Utilization and Academic Motivation of First-Year Bachelor of Science in Marine Transportation Students by Paul Dominic L. Aguirre
Motivations and Expectations of Female Students Pursuing a Maritime Career by Kyle Jenelle D. Salazar (Awarded as Best Paper Presentation)
Spinach Booba Pearls by Aira Mae C. Honrado
VEGGIETART by Alfredo P. Mangao, Jr.
Challenges of the Pandemic to the Logistics Company in Bacolod City by Riza L. Porras (Awarded as Best Paper Presentation)
Perception of Pre-Baccalaureate Maritime Specialization Students on Flexible Learning Modality by Angela Joy J. Tupas (Awarded as Best Paper Presentation)
Numeracy Ability and Academic Performance in General Mathematics of Grade 11 Students by Janosh Dwight R. Moya
Perceptions of Grade 12 Students on the Implementation of Mandatory Reserve Officers Training Corps by Leo Mel E. Dalisay
The event also showcased best innovative practices, demonstrating JBLCF-Bacolod's commitment to staying at the forefront of academic advancements:
On-Board Training Office: "Utilizing Google Workspace in Monitoring and Updating Students' Onboard Training" presented by 3/E Bernard M. Sorbito, Jr., OIC-Onboard Training Supervisor (Awarded as Best Presentation of Innovative Practices and Certificate of Commendation)
Library: "Revolutionizing the Library Experience: A Closer Look at the Best Strategies and Technologies to Engage Users and Enhance Services," presented by Elisa V. Garcia, Chief Librarian
This Unit Research Colloquium and Sharing of Best Innovative Practices exemplified the institution's vibrant culture of inquiry, innovation, and progress. JBLCF-Bacolod continues to push the boundaries of academia, nurturing an environment where research, knowledge, and innovation intersect to shape a brighter future.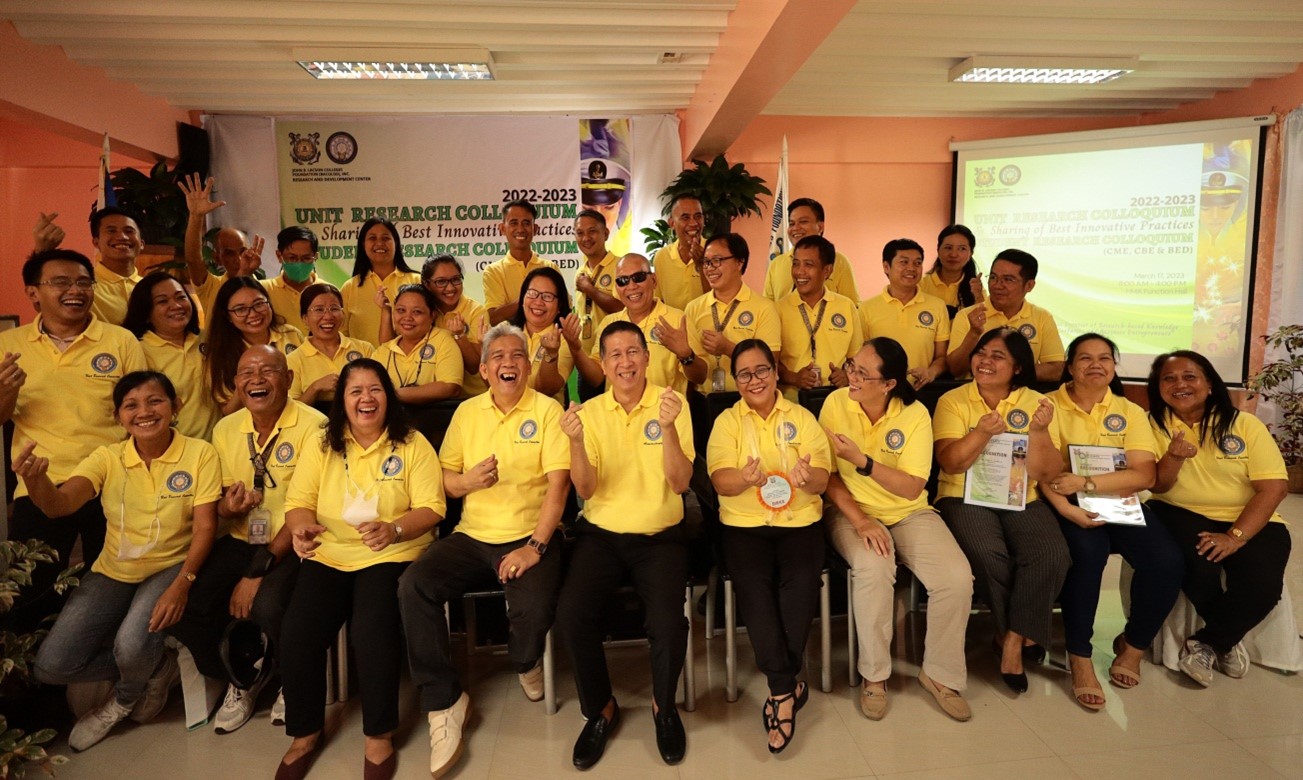 The event took a leap under the leadership of Dr. Emeliza T. Estimo, Research Coordinator of JBLCF-Bacolod, and was graced by the presence of the JBLFMU Director for Research and Extension, Dr. Melchor M. Magramo; the Executive Assistant to the CEO, Capt. Luis G. Evidente; the Director for Academic Affairs, Dr. Elena Eleperia; and the Administrator of JBLCF-Bacolod, Engr. Roberto Neal S. Sobrejuanite. Gratitude and due recognition are also expressed for the men and women in Yellow, the members of the JBLCF-Bacolod Research Committee.